William Hill Sportsbook Iowa Review & Bonus Codes
Up to $500 Risk Free Bet
Pros
+

Excellent User Interface - Among the leading sportsbooks in the state, William Hill has one of the seamless and user-friendly sites and apps. The site is clean, and the menu is laid out in an organized manner. Users will have no trouble navigating their way through the website or app.
+

Efficient Bet Slip Features - It is seamless to find your preferred bet and get your money back quickly.
+

Great promotion and bonuses - You will find interesting bonuses and promotions for both new and existing players. Almost every Sunday, it comes with something interesting to keep the players engaged.
+

Live Betting - The site offers live betting on all its sports betting menu. This is great for people who enjoy live gambling.
Cons
⨯

App Varies From State To State - William Hill offers different apps for various states. So if you are traveling from state to another where William Hill is legally operating, you will need to download a new app.
⨯

Inefficient Customer Support - One of the places where William Hill lacks significantly is the customer support section. The live chat function does not work well in the app.
⨯

Glitches and Freezing - You may experience certain glitches occasionally, which may impact the quality of your experience.
Screenshots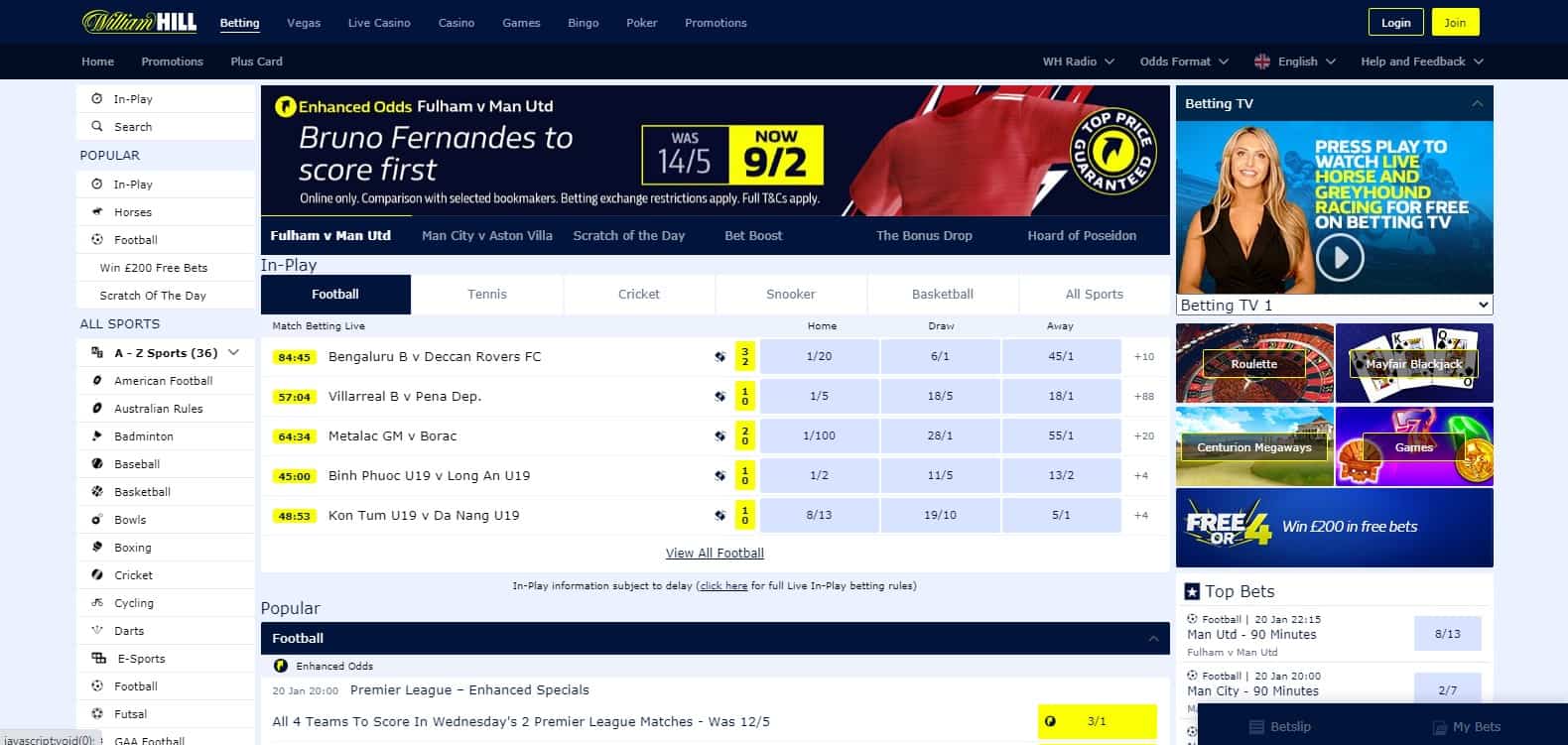 Iowa is among the first Midwestern states to legalize retail and online betting in August 2019. The activities in the state are administered by the Iowa Racing and Gaming Commission. Bettors will have tons of opportunities that they can leverage and win real money. William Hill's one of the most popular sports betting sites in the state and for all the right reasons. This article is a detailed IA William Hill Sportsbook Review where we are sharing everything you need to know about this sportsbook.
List of Sportsbooks for the Best Betting Experience
Iowa William Hill Sportsbook Bonus and Promotions
William Hill has made betting exciting for players by introducing lucrative welcome bonus offers. Here are the bonuses and promotions offered by the gambling site.
New Player Welcome Bonus
While not the best welcome bonus, the offer by William Hill Sportsbook is lucrative. On your first deposit, the player offers a risk-free bet of up to $300. To become eligible for this bonus, you have to make the deposit and place a wager within seven days of registration. If you have placed multiple bets within seven, then the bonus will be valued at the loss of the first bet. The William Hill Sportsbook website will credit the bonus amount directly to your account within three business days. You do not have to apply for Iowa promo codes William Hill Sportsbook to be eligible for this bonus.
William Hill Sports Betting: Rewards Clubs
A majority of legal sports betting sites in the USA offer reward programs for their loyal customers. William Hill online sports betting also has a dedicated reward program for its loyal customers. Along with the risk-free bet, the betting site allows you to collect rewards as you progress on a higher level. As you continue, the gambling platform will give you points. The value of these points depends on the type of bet you are placing.
Players can join this club for free and gain the benefits associated with it. The rewards for sports bets are calculated by the following value of the wagers. For instance, if you collect 10,000 points with your straight wins or any kind of bet, you can acquire $1 in free bets. You can redeem these points for betting online on any sports on the William Hill platform. Also, the members of this club are also eligible for special offers all year round.
| | |
| --- | --- |
| Type Of Bets | Value Of Bet Per Dollar |
| Straight Bet | 1 Point |
| Teaser/Parlay | 2 Points |
| Parlay Card | 5 Points |
What are the Sports Offered by William Hill Sportsbook?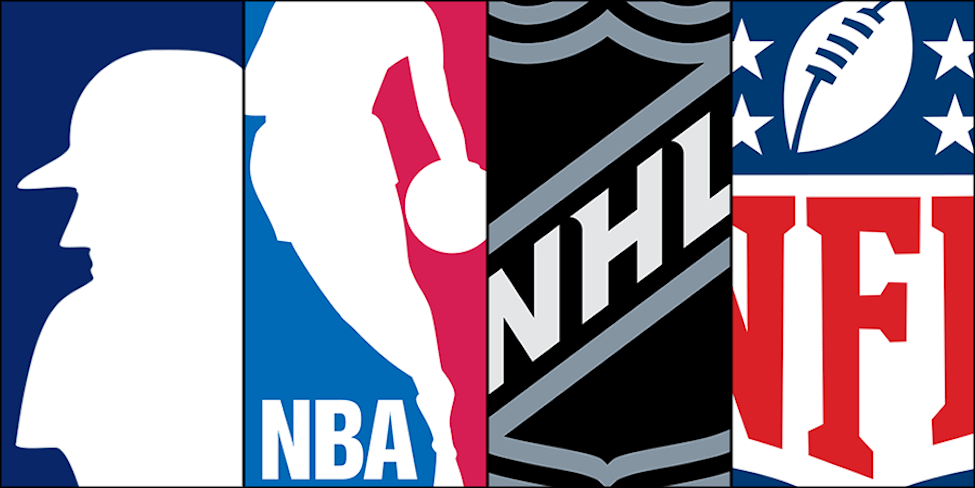 This US online sportsbook has an extensive collection of sports to bet via various wagering options. Following are the sports games available for US betting.
NFL
NFL also stands for National Football League, is a professional American football league encompassing 32 teams divided between American Football Conference and National Football Conference. It is among the major North American professional sports leagues and the highest professional level of American football worldwide. The regular season of the NFL starts in September and goes till late December.
MLB
Major League Baseball or MLB is another popular addition to the sports betting menu. The season is played between 30 teams, in which 15 teams belong to the National League, and the other 15 teams come from American League. One of the teams for MLB is from Canada. Every season has 162 games.
NBA
The NBA or National Basketball Association was founded in 1964. It is a professional basketball league for men where 30 teams play against each other. Out of 30 teams, 29 belong to the United States, and one team is from Canada. The NBA is considered the premier professional men's basketball league in the world.
NHL
National Hockey League is a professional ice hockey league based in North America and was founded on November 26, 1917. It encompasses 31 teams, out of which 24 teams are from the United States, and the other seven belong to Canada. It is the premier professional ice hockey league worldwide.
Football
Football is one of the popular sports in the United States of America. All the best online betting sites offer football betting on their sites. There are different football leagues in the country, including the National Football League, Canadian Football League, College Football, etc. Iowa William Hill Sportsbook football contest options are extensive and give you a lot of bettings.
What are the Types of Bets Available in William Hill Sportsbook?
The William Hill Sportsbook odds differ on the type of betting the player chooses while gaming. Following are the wagering options offered by the Iowa William Hill Sportsbook app and desktop.
Moneyline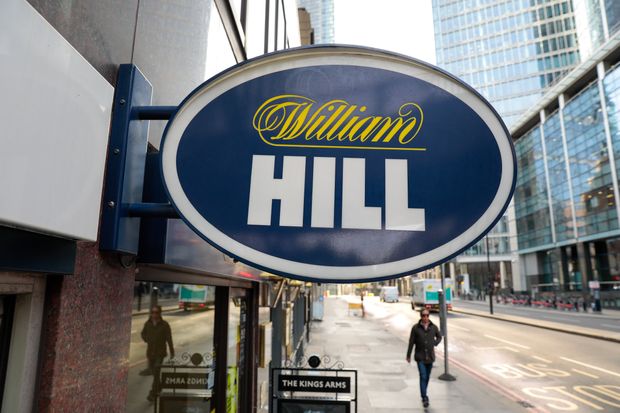 Moneyline is the most common form that you will find. In this, you simply choose the player or team, which will win the game. If your prediction is right, then you will get the rewards. William Hill Sportsbook moneyline bets do not have any point spread, and each wager is paid on a different schedule, which makes the best kind of confusing.
Half-Time Bet
A half-time bet is a William Hill Sportsbook wager that is placed on the second half of the sporting event. This allows you to place a wager on the outcome of the first half of the second half of the game. The first half bets are placed before the game starts and settled during halftime.
Futures Bet
A futures bet is the one that is placed on events that will occur in the near future. You can wager on the results of major events such as the NBA Finals, NFL Super Bowl, etc. In this, the gamblers receive fixed odds on the champion. This form of William Hill bet is available in most of the sports forms.
Parlays Bet
In this form of William Hill bet, you combine two or more bets into one. The bet can encompass money lines, point spreads, futures, totals, prop bets, etc. Each bet needs to be wagered on different sports. People choose this form of betting due to the high payout they get, but it also comes with the highest risk. If you fail to understand the odds for each team properly and make the right prediction, you will end up losing your entire bankroll.
Teaser Bets
This form of William Hill bet is similar to parlays bet, where you choose one or more events to bet. The aspect that differs the traditional parlay from easier is that you get to change the over/under totals and points spread between 4 and 10 points based on the sports. These forms of bets have higher betting limits and offer substantial cash rewards.
Live Betting
When you choose in-game live betting, you get to place bets during the ongoing match. It allows you to better understand the odds and place your bet. Using live in-play betting allows you to increase your sports betting revenue.
Review of IA William Hill Sportsbook Mobile App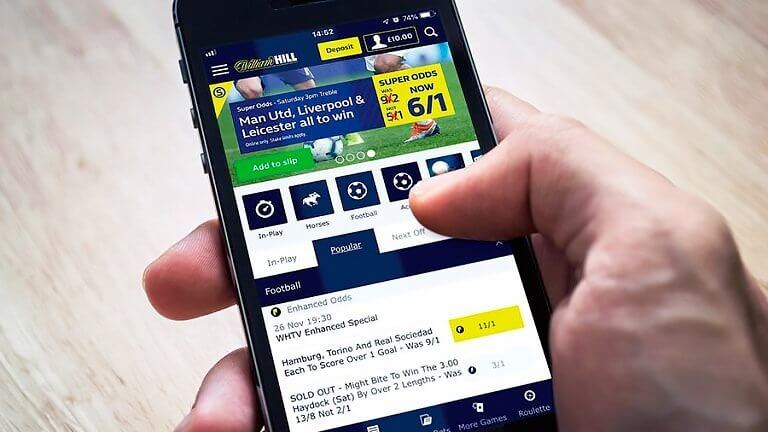 Sports betting apps have become one of the important factors that players look for. Major William Hill's rival sportsbooks have their dedicated mobile app, and it is giving them serious competition with its own mobile sports betting platform. As a mobile sportsbook operator, William Hill Sportsbook offers everything that you would expect from good betting apps. The company has collaborated with reliable software providers to design the mobile app.
The interface is clear and intuitive, with menus laid out in an organized manner. When players sign up for mobile betting accounts, they also receive bonuses. The William Hill bonus and reward programs are similar in both desktop and mobile versions, and you do not need to apply the IA William Hill promo code.
How to Download the William Hill Sportsbook Mobile Betting App?
Although the download process is simple, you need to take different steps while downloading the app for Android and iOS.
For iOS App
Apple supports online gambling websites, so you can directly download the William Hill app from the App Store and make your first real money bet.
For Android App
You have to take a different approach when betting on William Hill Android app as Google does not support gambling websites. You must take the download link from the official website and complete the download process.
Banking Options Available at William Hill Sportsbook in Iowa
William Hill's Sportsbook offers a wide range of deposit and withdrawal options for players. Following are the banking options available in Iowa:
Credit card
Debit card
Bank account
PayPal
Prepaid William Hill card (Play+)
Casino cage
E-Check
PayNearMe
Visit William Hill directly in Iowa and pay cash at the casino
Final Thoughts
After the demolishment of the Professional and Amateur Sports Protection Act (PASPA), many states have come forward in support of legalizing online sports betting. After substantial efforts by the state, Iowa legalized sports betting in the year 2019. Since then, many platforms have emerged in the state, and William Hill is among the best gambling platforms to consider.
From its sports betting websites, sports menu, wagering options to mobile apps, and user-friendliness, the William Hill Sportsbook site stands true to the expectation of sports fans. In our betting bookmaker reviews, we have shared all the vital information that you need to know about Iowa William Hill Sportsbook.
We hope that information from this article was helpful but, if you still have any doubts, do not hesitate to check other reviews that we prepared for you. There are a lot of options on the sportsbooks market in Iowa, and you can be sure that we choose only the best ones for you:
Frequently Asked Questions
Is William Hill online sportsbook legal in Iowa?

Yes, William Hill online sportsbook is legal in Iowa. The site was launched in the state in August 2019.
Who can play at William Hill in Iowa?

Iowa has set the legal betting age at 21. So, to be able to bet on William Hill, you have to be 21 or above years of age. The site has a verification process where it ascertains the age of the registering players.
Does William Hill charge fees in Iowa?

You will have to deposit money on the site to be able to make bets. Other than that, there are no specific charges that the players have to bear.
Are William Hill winnings taxed in Iowa?

Yes, the money you earn from gambling is entirely taxable in Iowa. The gross receipt from the gambling activities is subjected to sales tax in the state. The Iowa government can withhold 5% of your winnings associated with gambling.
How long does it take to withdraw from William Hill Sportsbook in Iowa?

The process of withdrawing money is straightforward, which is one of the best things about this site. It takes around 72 hours for William Hill to process your withdrawal request.