Twinspires Online Review - Horse Racing Betting Iowa
$200 Sign Up Bonus
Screenshots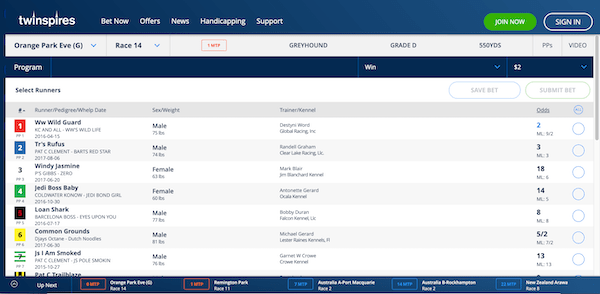 Let's start the Iowa Twinspires Racebook review by providing some crucial data about the company. In this review, we want to tell you that it is an official Churchill Downs online betting site. If you are looking forward to wagering on and horse races, like the Triple Crown hunt for the Kentucky Derby, the Twinspires betting app is the best. In the state of Iowa, the US racebook is allowed wagering on a variety of international racetracks, and it is pretty impressive.
List of Sportsbooks for the Best Betting Experience
Licensed by the Oregon Racing Commission, and Churchill Downs racetrack is the legal US betting site functioning since 1875. In 1937, CDI (Churchill Downs Incorporated) started operating, and on 17th May 1875, the first Kentucky Derby was organized. Well, now it has become a popular event in North America. CDI is a reputed brand, and Twinspires race betting in Iowa is the official website to bet on horse races. In this IA Twinspires online review, we have included every detail, like promo code, deposit, banking options, odds for each race, etc.
TwinSpires Racebook Iowa Bonuses and Promotions
An interesting welcome bonus offer is available on the gambling platform for new clients. Alongside that, some other Iowa Twinspires bonuses are there to provide to you from time to time. Collect the information on the type of bonuses to start playing on the horse betting website.
Signup Bonus: The brand offers a $200 signup bonus to Iowa bettors when they register on the betting website. For that, register on an account by fulfilling the requirements and use the promo code. The code keeps on changing so, visit the promotion section to know about it. To avail, the full amount of $200, bet $800 within thirty days.
Welcome Bonus: After signing up, betting at least $500 will give you $100 within a month. Most importantly, no such wagering requirements are available that need to be fulfilled to avail of it. It does not matter whether your first deposit is $10 or $1000. It is unique, and the only parameter is the total bet needs to be $500, and that's all. There is no Iowa Twinspires Promo code to claim the bonus.
TSC Elite Program: By signing up on an elite program, earn loyalty points that you can redeem afterward. Placing a bet every time gives four while wagering every dollar gives one loyalty point. High-limit wagers can proceed to VIP status by wagering for more than $25000. It is a bronze VIP status, granting free admission to several games and other things. Following that, players can move to gold, platinum, and silver levels.
Free Past Performance: Here, the Twinspires Racebook website offers risk-free first bets, or other promotions, depending on past performance. To claim the offer, sign up for the program first.
Seasonal Promotions: Get the first time starts insurance offers, and if you back a first-time starter, which leads to the final call, you get the amount back. Many other promotions are also being offered depending on the matches, like the Kentucky Derby, the Belmont Stakes, the Preakness Stakes, and the Breeders' Cup.
Cash Back: Based on certain exotic eagers, win 10% promotions, exact payouts, or Twinspires Racebook rewards. It can be a $100,000 place payout series, etc.
Refer-A-Friend Bonus: The easiest bonus is to tell your friend to enroll in the legal race betting site, and avail yourself a bonus. It can be anything like a cashback, a risk-free bet, etc.
Deposit Bonus: At times, you will come across an offer, claiming that to get a betting bonus of a certain amount, make a deposit. Once it's done, the bonus amount is added to your gaming.
Free Bet: Some Iowa Twinspires websites offer free bets, and when you use and lose them, but you do not lose any amount. But if you win, get a Twinspires gift card.
Betting Types in Iowa TwinSpires Online Racebook
The wagering types play an integral role, and if you are not sure which bet means what, there is no chance that you can win it. The chance of winning is higher when you have in-depth information about the bets, the payout you will get, and other things. Let's check out the horse racing bets to choose from.
Win: To get the reward available for the winner, choose a horse that you think wins the race in the match.
Place: Compared to win, it is easier to predict the horse that can complete in any of the top two positions.
Show: If your horse completes in any of the three positions, you get a payout. However, the amount of payout decreases from a win to place to show as the risk reduces.
Exacta: Well, it is a tough one, as the two horses that you are choosing should finish the first and second position in the race in an order that you have fixed. There is no point if your horses do not complete in the same order.
Trifecta: Choose three horses that you think will win the race with the order. Winning the bet will allow you to take a higher payout.
Quinella: Even though players must pick up two horses as per the bets, but no need for the order, and the payout decreases.
Superfecta: If you have a bunch of information about all the horses and you are pretty sure about them to occupy first, second, third, and fourth position, place this wager.
Daily Double: Winning every wager is important here if you wish to claim the prize. Choose the winner of two different races in a single day.
Pick 3/ 4/ 5/ 6/ 7/ 8: Similar to daily doubles, but the horse keeps on increasing with the numbers. However, if you win two and lose one, there is no prize, so you have to win all of it.
Twinspires Racebook Mobile Apps Availability in Iowa
If you like wagering on the go, sign up for mobile horse betting accounts. The mobile app is available for Android and IOS users and after completing the downloading process, start playing on it. For installing in-game live betting on android phones, it's important to first enable installations from unknown sources, following which you can download. For IOS users, proceed to the Apple store and complete the process.
The mobile racebook operator has created a mirror image of the web browser. Gamblers find it to have a replica of the web browser and have hundreds of races organized worldwide. From the Dubai World Cup, the Melbourne Cup, the US Triple Crown, etc., place wagers on everything. The banking options are also safe on the betting website with expert advice and Twinspires handicapping tips.
Payment Options Which Twinspires Racebook Online Platform Support
Probably, the process that you may prefer to make transactions will not be offered by someone else. That's why; several payment options are available, and to know, visit Twinspires directly in Iowa. The common payment methods are PayPal, credit cards, PayNearMe, on-site deposits, money or check orders, MoneyGram, EXMoney, EZBank, GreenDot @ the Register, Bank Wire Transfers. Every method has a different transaction fee, minimum and maximum deposit limitations. For example, for Wire Transfer, the deposit limit starts from $1. The speed of the Twinspire Racebook platform is high, so you get the amount the same day. In credit and debit card payments, a transaction fee of $5 is associated. The processing time will also vary depending on the method you choose.
TwinSpires Online Racebook Customer Services for Iowa
Twinspires Online Racebook customer service is one of the attractive sections that you should know. Three sections are available through which you can get in touch with the experts. The first one is through live chat, and to activate it, proceed to the support section and press on live help.
Otherwise, call over the phone by dialing 1.877.774.7371 or send an email to [email protected]. However, a FAQ section is there, providing a solution to all the vital queries like account information, creation, status, balance, profit line, payouts, results, etc.
Final Notes
Many reasons are there to recommend this Twinspires Online Racebook website, like live betting options, rewards for race bets, the new player welcome bonus, etc. The best online horse betting site is a complete package, and Iowans are satisfied with it. With a variety of promotions, an excellent sports betting app, easy registration process, you get to enjoy everything. Therefore, register on the betting online website and have an exciting experience placing bets.
We hope that information from this article was helpful but, if you still have any doubts, do not hesitate to check other reviews that we prepared for you. There are a lot of options on the sportsbooks market in Iowa, and you can be sure that we choose only the best ones for you:
Frequently Asked Questions
Is Twinspires online racebook legal in Iowa?

Yes, it is legal. The racebook includes all the horse races from across the world, giving you the flexibility to wager on anyone from a single platform. The signup process is simple, so within minutes you can start playing.
How can I watch horse races in Iowa?

Watch horse races on Twinspires. It will give you all the updates about the upcoming matches, availability of bets, payouts, wagering playthrough, etc. Read through the details before you start betting on the website.
Is there an IOS app on Twinspires?

It has both android and IOS apps, so players can download and play from anywhere. The app is more preferable as it gives the flexibility to play on the go. Go ahead and start playing and do check the bonuses as well.
Is greyhound betting available in Iowa?

Yes, it is. Check out the types of bets being offered by the website so that you can use them. The racebook has many other features as well, like free stats, live video, daily news, probable, betting guide, free handicapping, track bias statistics, trainer-jockey statistics, etc.